de collectie
De Stichting bezit een internationale collectie kunstwerken uit de periode 1950-2016. Deze bestaat uit schilderijen, muur installaties, objecten, kunstenaarsboeken ephemera, kunstbibliotheek en archief. De namen van de kunstenaars, die met meerdere werken zijn vertegenwoordigd in de Stichting staan voor een deel vermeld in onderstaande lijst. Ieder jaar zal deze collectie verder worden uitgebreid door nieuwe schenkingen.
Kunstenaars in de collectie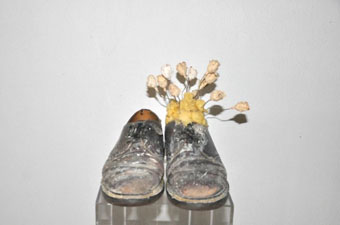 Lawrence Carroll
(1954, Melbourne, Australia),
Untitled (Shoes)
, 1997/1998. Leather shoes, wax, callico flowers. Literature: a) Artist book Lawrence Carroll, 1998; Publisher: Galerie Buchmann, Cologne, Germany; illustrated on several pages. b) Catalogue Lawrence Carroll, solo exhibition in de Galerie Stadt Stuttgart: Publisher Hatje Cantz, 1998, illustrated on several pages [foto: Hans Brokken].
Armando, Tauba Auerbach, John Baldessari, Robert Barry, John Blake, Marinus Boezem, Bram Bogart, Christian Boltanski, Louise Bourgeois, Daniel Buren, James Lee Byars, Sophie Calle, Thomas A. Clark, Lawrence Carroll, Janine Cohen, Tony Cragg, Hanne Darboven, Tacita Dean, Jan van Duijnhoven, Hamish Fulton, Gelatin, Paul Goede, Mathias Goeritz, Daniel Göttin, Anthony Gormley, Wim de Haan, José Heerkens, Harmen de Hoop, Damien Hirst, Jenny Holzer, Roni Horn, Ellsworth Kelly, William Kendridge, Fransje Killaars, Cor Knops, Jonathan Lasker, Ger Lataster, Robert Lax, Sol LeWitt, Axel Lieber, Bert Loerakker, Richard Long, George Meertens, Jos van Merendonk, Klaus Merkel, Cildo Meireles, François Morellet, Rober Morris, Christopher Muller, Elisabeth Murray, Jan van Munster, Louise Nevelson, Ann Noël, Julian Opie, Guiseppe Penone, Dan Perjovschi, Raymond Pettibon, Markus Raetz, David Reed,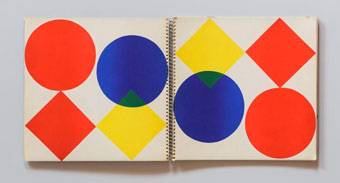 Diether Roth
(1930, Hannover-1998, Basel),
Children's Book
, 1954-1957, experimental block printing by Diether Roth, handbounded by Dieter Roth and his wife. Original copies made: 100 ex.; most copies are lost or severely damaged. First artist book made by Dieter Roth. Literature:
Concept and Idea in Art
, 2016; see website publications.
Ad Reinhardt, Gerhard Richter, Winston Roeth, Cornelis Rogge, Dieter Roth, Salvo, Alice Schorbach, Thomas Schütte, David Shrigley, Phil Sims, Laurie Simmons, Oey Tseng Sit, Kiki Smith, Peter Struycken, Fiona Tan, Toon Teeken, Richard Tuttle, Cy Twombly, Vasarely, Bram van Velde, Geer van Velde, Toon Verhoef, Ine Vermee, Henk Visch, Jan Voss, herman de vries, Marijke van Warmerdam, Markus Weggenmann, Lawrence Weiner, Peter Willen, Emmett Williams, Christopher Wool, Robert Zandvliet, Beate Zoderer.