exhibition
From Picasso to Sol LeWitt. Artists' Books since 1950
15 March to 13 July 2014
Museum Meermanno | House of the Book, The Hague
Livres de peintre first appeared in France in the late nineteenth century. These unique, de luxe editions of books would frequently combine a renowned literary work with original illustrations by a contemporary artist. Over the years, this genre witnessed a gradually blending of text and image in which the visual artist acquired more say over the book's content and form.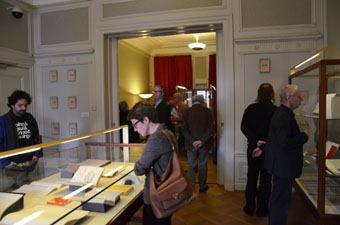 Alongside these exclusive books, a new type of books developed in the 1950s: inexpensive books with a plain layout and finish and with a strong emphasis on pictorial content and visual form. Visual artists became responsible for the initial idea, for the actual lay-out and the chosen finish. These books were also intended to be an affordable art form for a broader, less prosperous audience. In spite of what were then affordable prices, there was a limited demand for artists' books of this kind. Many artists nonetheless saw these books as an attractive art form, in which they could communicate to the public their own, sometimes highly idiosyncratic ideas and beliefs about art, humanity, and society. Later on no longer signature styles and singular trends dominated the content and form of artists' books and artists' books developed into a mature art form. Today, in many countries visual artists frequently practise this art form to reach art lovers all over the world.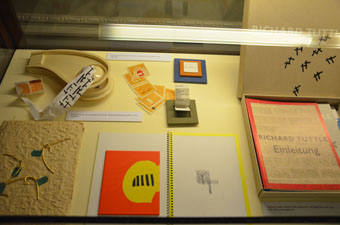 The exhibition opens with a number of classical examples of the livre de peintre, with work by artists including Pablo Picasso and Matisse. These are followed by a representative selection of artists' books from the international art world since 1950. In compiling this exhibition, books were selected from the collections of the Brokken Zijp Foundation of Art, the National Library of the Netherlands (Koninklijke Bibliotheek) and Museum Meermanno.
Dieter Roth and Ed Ruscha can be regarded as the leading pioneers in the genre of artists' books since 1950. Alongside examples of their work, the exhibition also features artists' books by artists including Sol LeWitt, Daniel Göttin, Louise Bourgeois, Alberto Giacometti, Ellsworth Kelly, James Turrell, Richard Tuttle, herman de vries, François Morellet, Robert Barry, John Baldessari, Christopher Wool, Paul Goede, James Lee Byars, Timothy Ely, Sjoerd Hofstra, Veronika Schäpers, Cy Twombly, Raymond Pettibon, Damien Hirst, David Shrigley, Roni Horn and Gerhard Richter. A number of them are also featured with some of their other works of art.
exhibition views
Photos: Lilian Seegers, Amsterdam
Museum Meermanno | House of the Book
Prinsessegracht 30, 2514 AP The Hague
Open: Tuesday to Sunday, 11 a.m to 5 p.m.
Closed on Mondays
www.meermanno.nl